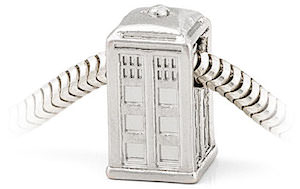 Does you charm bracelet have a Tardis on it?
If not then you are in luck as not there is the silver colored charm that looks just like the Tardis from the Doctor.
If you don't have a bracelet for this charm then no worries it's available with a leather or silver bracelet to.
Now you can wear jewelry you like and as a Doctor Who fan you of course want to have your own Tardis.
Don't wait come and have a better look at this Doctor Who Tardis Charm.