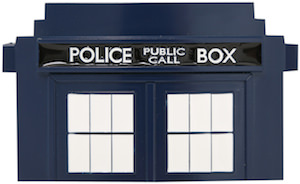 Are you still waiting for the perfect belt buckle?
Doctor Who fans can stop looking as this Tardis belt buckle is just amazing.
The buckle shows the top of the Tardis including the windows and it's die cut so shaped like the Tardis and in the color of the Tardis and yes it has the "Police Public Call Box" banner on it to.
This Doctor Who Tardis belt buckle is made from metal and measures 3 3/4″ x 2 1/4″.
Just imagine wearing the Tardis on your belt, your day can't get much better then that.
I normally wear boring buckles but I really want this Tardis buckle.
If you are like me then don't wait come get your own Doctor Who Tardis Belt Buckle.