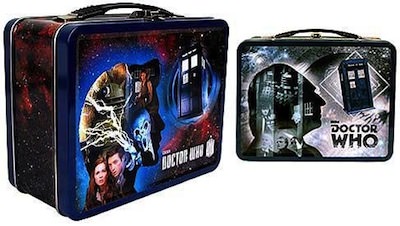 Doctor Who fans that are looking for that really special item for their Doctor Who collection should check this one out.
First of all there is a tin lunch box with great graphics and a different picture on each side. You will of course find the Tardis and many of the Doctor's enemies and that makes it a great item to have.
But it does not stop there.
Inside the Doctor Who lunch box you will find two action figures.
One is the 1st Doctor Who played by William Hartnell and then there is another action figure and this time it is the 11th Doctor as played by Matt Smith. Both Doctor Who action figures are about 8 inch tall and wear real fabric clothing and of course come with accessories and both have multiple points of articulation.
A set like this is real special and a must have for a true Doctor Who collector. This set is made because of the 50th anniversary of the Doctor so it could be gone before you know it.
Now is the time to get your Doctor Who Lunch Box and Action Figure Set.