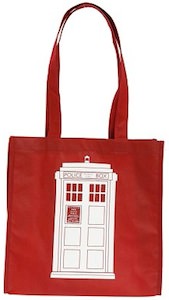 This the way to make a Doctor Who fan stop using plastic shopping bags.
This Tardis tote bag is one of those bags you want to use all the time.
Now you can use a Doctor Who tote bag for shopping, school, work and play if you need a bag then this Tardis one is the one to use.
The tote bag is red and shows a white picture of the Tardis and there is one on each side of the bag so that people for sure will see that you are a real Whovian.
Don't hesitate as this bag will be good for the environment and will make a Doctor Who fan happy.
So come and get your own Doctor Who Red Tardis Tote Bag.