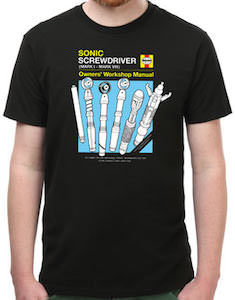 Haynes guides are really useful and now there is one even Doctor Who would want.
This is the Sonic Screwdriver guide and it covers Sonic Screwdriver Mark I – VIII.
OK it's not the actual Haynes guide but a t-shirt and the black t-shirt looks exactly like a real Haynes guide including their famous logo.
This cool Doctor Who t-shirt is made from 100% cotton and is available in sizes Small – 3XL.
Maybe wearing this Doctor Who t-shirt will lure the real Doctor to come out and see you as a guide for a Sonic Screwdriver is handy to have.
Become a Haynes guide by wearing this Doctor Who Haynes Guide To Sonic Screwdrivers.