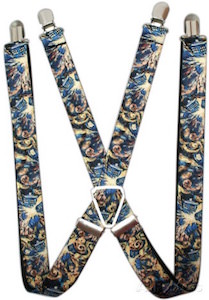 Suspenders are a great way to keep your pants up and if you are a Doctor Who fan then now you can enjoy these exploding Tardis suspenders.
These suspenders are adjustable in sizes and have the famous van Gogh exploding Tardis painting all over them to make them just stunning.
Just imagine wearing these Doctor Who suspenders with a suit of just on a pair of shorts with a fun Doctor Who t-shirt.
There are so many fun occasions to use these Tardis suspenders on that they will quickly become one of your favorite Doctor Who items you own.
Come and take a closer look at these Doctor Who Exploding Tardis Suspenders.