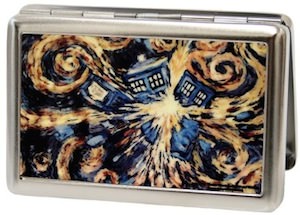 Are you a Doctor Who fan looking for handy way to carry around some cards?
Now there is this ID card box that has a chrome finish and a picture of the exploding Tardis as Vincent van Gogh painted it in the famous Doctor Who episode.
A case like this is just super handy it can hold bank cards, credit cards, ID's and more and maybe even some cash.
I use a case like this all the time so that I don't have to take a wallet any more.
Having Doctor Who art on a case like this is great and it even has parts of the Tardis. OK it would be nice if it didn't explode but hey it's all part of the Doctor Who story.
Come and take a closer look at this Doctor Who Exploding Tardis ID Card Case.