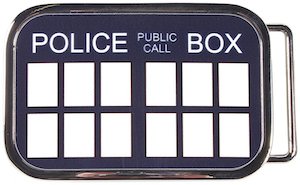 Belts are often needed but often also really boring.
But why leave it like that when you can make them look cool just by getting a cool belt buckle.
Doctor Who fans are in luck because now there is this Tardis style belt buckle. The buckle is square with a chrome edge and in the middle you can see the top part of the Tardis. You can see the windows and the top sign that says "Police Public Call Box".
This metal Doctor Who belt buckle works just like any other belt buckle but just looks so much better.
Come and have a look from all angels of this Doctor Who Tardis Belt Buckle.