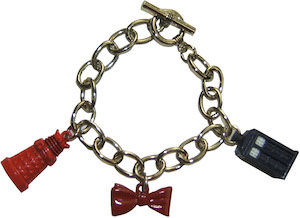 This is a 7 inch long chain link bracelet with some fun Doctor Who themed pendants.
There are 3 pendants on this bracelet and the look like a Dalek, Bow Tie and of course the Tardis.
Now any Doctor Who fan can have some special jewelry based the Doctor. And we all know that bow ties are cool so now you can have one on your wrist.
Are you the Doctor Who fan in need of some fun jewelry or do you know one?
If you do then you have to get this Doctor Who Charm Bracelet.