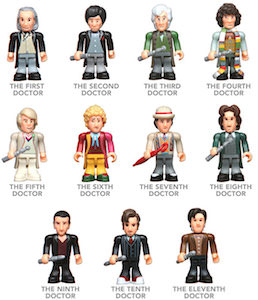 We all want our own Doctor Who and now we can have 11.
This set has 11 Doctor figures from the 1st Doctor all the way to the 11th Doctor and each Doctor comes with his own base to stand on.
And you know these Doctor Who action figures are compatible with LEGO so why not build them a HUGE Tardis to live in.
Oh they actually come in a Tardis display box with information about each Doctor.
I know the picture above is not great so click on it to see so that you can see it much better.
Lets play Doctor Who with this Doctor Who Action Figures Set Of First 11 Doctors.