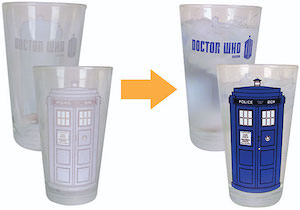 Looking for a good reason to take a cold drink?
This set of 2 Tardis glasses will give you that reason.
The pint size glass shows a pale blue picture of the Tardis on one side and the Doctor Who logo on the other. But when you put a cold drink in it then that all changes to bright colored pictures.
A glass of cold water will give you that nice blue Tardis but I can imagine that some other drinks will do that to as long as they are cold.
Now you can feel a bit like Doctor Who as you can make the Tardis appear and disappear.
Get rid of those boring pint glasses and replace them with these Doctor Who Disappearing Tardis Pint Glass.