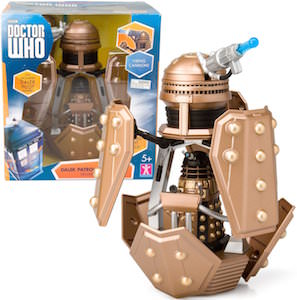 If you are a collector of everything Doctor Who then this is an item that is just amazing.
It is toy version of a Dalek patrol ship complete with real working canon and inside it you find a Dalek of course as pilot of this ship.
The Patrol ship is about 8 inch tall and is great for playing and just having on a shelve to admire. Inside the ship you find a 3.75 inch tall Dalek action figure with gold and black panels .
All this comes in a real nice display box with a big window so that you can keep this toy in new condition if you want.
Why wait just come and add you own Doctor Who Dalek Patrol Ship And Pilot.