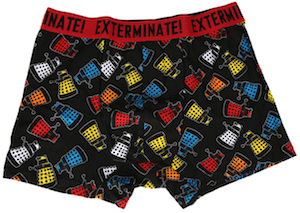 No more boring plain underwear for you!
Now you can wear Doctor Who underwear. These boxers shorts are black and have a red waistband that has "EXTERMINATE" written on it. And yes that means Dalek and that is why you can see many Dalek's on the black shorts in all kind of colors.
This Dalek underwear is fun and a fun item for a true fan of the Doctor.
The boxers come in sizes Small – XL and are made from 95% cotton and 5% spandex.
You should take a better look at these Doctor Who Dalek Boxer Briefs.