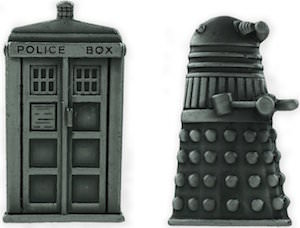 Round buttons are fun but if you are a Doctor Who fan then you will love these shaped pins even more.
This set has two pins one looks like the Tardis and the other one looks like a Dalek and they have a lot of detail and they do look a bit more like the classic pieces.
These buttons have a pewter like finish and that makes them only better and more special.
Just imagine have one of these pins on your jacket, bag, lanyard or hat. True fans will notice and admire the amazing pins you have.
So don't hesitate order your own Doctor Who Dalek And Tardis Pin Set With Pewter Finish.