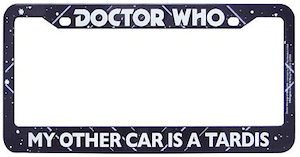 Does your cars licence plate has a boring dealer frame around it or maybe it doesn't have anything around.
If you are a true Doctor Who fan then this licence plate frame is perfect for you.
This licence plate frame will fit perfectly around you licence plate and is Tardis blue and on it it says "Doctor Who, My other cars is a Tardis".
You have to admit that looks a lot better then a boring frame that you got with your car.
This frame is made for a standard US licence plate but be aware if yours has stickers on the bottom row then these could be blocked.
Come and read all about this Doctor Who My Other Car Is A Tardis Licence Plate Frame.