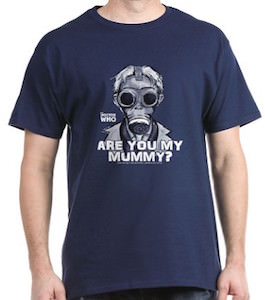 Of course you remember "The Empty Child" episode where the Doctor ran into the child looking for their mummy.
On this t-shirt you can see the child with the gas mask face that keeps asking "Are you my Mummy?" and that is also what it says on the t-shirt and it also has the Doctor Who logo.
You can get this 100% cotton Doctor Who t-shirt in a bunch bunch of fun colors so that you can choose the color you prefer.
And this gas mask face t-shirt comes in adult sizes Small – 3XL.
Lets remember Doctor number 9 by all wearing this Doctor Who Are You My Mummy T-Shirt.