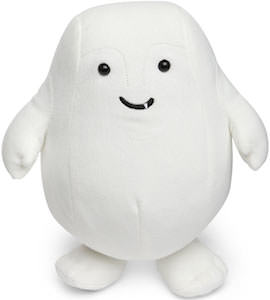 There we have an Adipose that we all know from that famous episode of Doctor Who where they grew inside people eating on their fat.
But don't worry this Adipose is just a super cute plush.
The plush Adipose is about 10 inch tall and does not contain human fat but could remind you that diet shortcuts don't work.
And as this Adipose is basically still a baby you should cuddle it lots and let it hang with you while you watch Doctor Who on TV.
This Doctor Who Adipose plush is just a great addition to any Doctor Who fan's home so do you have a spot?
You should come have a closer look at this cute Doctor Who Adipose Plush.