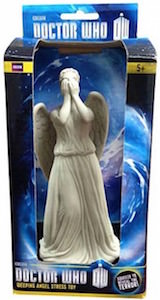 Do you need to get rid of some stress?
How about getting a Doctor Who stress toy?
There now is a special Weeping Angel that loves to be squeezed. This Weeping Angel of course looks like the real Angels you have seen on Doctor Who and it even covers it's eyes as it seem to be scared of what is gone happen to it.
But when you give it a squeeze his arms will move away and it's scary face will be visible and could give your some nightmares.
So when in stress mode then this Weeping Angel loves to be giving a hard squeeze but when in calm mode you can just have it stand with your other Doctor Who memorabilia you own.
Get ready for your next stress attack by ordering this Doctor Who Weeping Angel Stress Toy.