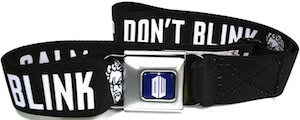 Doctor Who fans know not to blink as the Weeping Angel could advance on you if you do.
But how to keep track of your pants when you have to focus so much on not blinking?
This Weeping Angel seatbelt style belt can be perfect. The belt can be adjust to the perfect size to keep your pants up.
The Weeping Angel belt is black and says in big white letters "Keep Calm And Don't BLINK" and has some Weeping Angel heads on it to. And the belt buckle has the Doctor Who logo on it.
Keep up your pants with this special Doctor Who Weeping Belt.