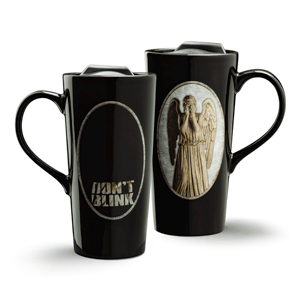 This black ceramic travel mug is perfect for the Doctor Who fans that are not to afraid of Weeping Angels.
The mug can hold up to 20oz of your favorite beverages and if they are hot then you have to watch it because then the angels appear.
Yes this travel mug is heath changing and that is a great thing to have for on your desk at work or just on the go as it will remind you there is more then work and soon you can watch reruns of Doctor Who.
If you want a really special Doctor Who mug then this could be the one.
Come have a better look at this Doctor Who Weeping Angel Heat Changing Travel Mug.