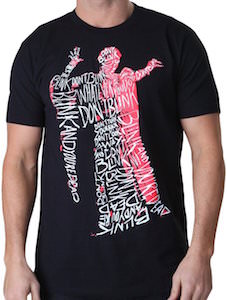 Of course you as a Doctor Who expert know that you should not blink and this t-shirt will get that message out one more time.
On this black t-shirt you can see a Weeping Angel but this time it's made from words and a bit of red color. The words used to make this angel are "What ever you do Don't Blink" and these words in different sizes and directions make this Weeping Angel.
And this 100% cotton Doctor Who t-shirt comes in sizes Small – 2XL and will be just great to own.
Now you get reminded a couple more times what not to do as it is the way they build the Weeping Angel.
So get ready to wear this Doctor Who Weeping Angel Don't Blink Angel T-Shirt.