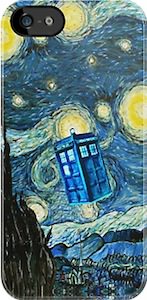 We know that the 11th Doctor got to know Vincent van Gogh pretty well and now you can see the work that came of their friendship.
The famous Starry Night painting can be found on this iPhone case but there is an addition and yes it is the Tardis who you can see in the nights sky.
This piece of art is printed on a iPhone and iPod touch case and is available for many Apple devices.
You can get this Doctor Who phone case for the:
iPhone 5

iPhone 4S
iPhone 4
iPhone 3GS
iPhone 3G
iPod touch 4e generation
And all those devices have the same amazing image that is printed in the case not just stuck on it so this one will not peal off.
The edges of the case are part of the painting so no boring black edges here.
Come and have a closer look at the Doctor Who Starry Night iPhone and iPod Touch Case.