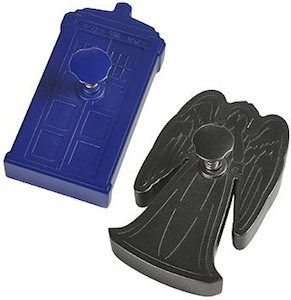 Doctor Who fans love cookie just like anyone else but they would prefer them to be shaped like things from the Doctor Who adventures.
Now there is this set of two cookie cutters one is a Tardis and the other one a Weeping Angel.
And these cookie cutters even stamp the top of the cookies to make them look even better.
A night on the couch watching Doctor Who will be a lot better with a fresh batch of Weeping Angel and Tardis cookies.
I can't remember life without these cookie cutters, can you?
You just have to come and take a closer look at this Doctor Who Tardis And Weeping Angel Cookie Cutter Set.