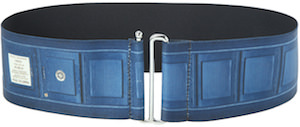 How about a fun Tardis belt?
Yes Doctor Who fans can now have a belt that clearly is part of the Tardis.
It's a 3 inch wide belt that is available in different lengths and it stretches.
As you can see on the picture above you the belt is Tardis blue and actually shows door panels and there are panels with the signs on the Tardis door but there are also windows and on the back even the sign that says "Police Public Call Box".
A belt like this is just fun to own and worn with all kind of clothing to make it Doctor Who worthy.
Come take a better look from more angels of this Doctor Who Tardis Stretch Belt.