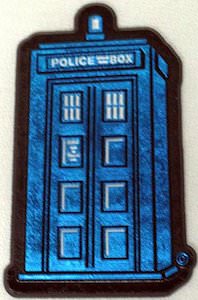 Now Doctor Who can help you hold notes on your fridge or just make it look more cool.
This Tardis magnet is great for almost any metal surface and really brings the Doctor to your home, school or office.
Just imagine this fun magnet on your fridge at home or you locket at school and maybe even your filing cabinet at work.
And yes it will hold notes and yes it is die cut so it's not a boring square magnet.
The Doctor Who magnet is made from a heavy vinyl with a full magnetic back to keep nice and flat on a metal surface.
Come take a closer look at this Doctor Who Tardis Shaped Magnet.