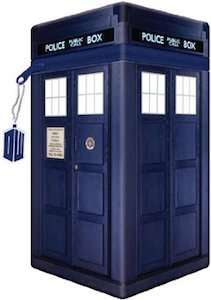 Pens and pencils need a home specially if you take them on your trips to school or work.
And that is why there now is this Doctor Who pencil case that can store all your important pens and pencils and other stationary stuff you need in one little pouch.
But this pencil case looks like the Tardis and that makes you wonder that it could be much bigger on the inside.
The outside dimensions of the pencil case are 6.75″ x 3.25″ x 3.25″ and it is made from flexible plastic with a zipper to open and close it.
So if you need to organize those pens and pencils then why not in this Doctor Who Tardis Pencil Case.