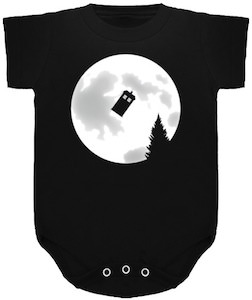 You can't wait to long to teach a new born baby about Doctor Who.
Some fun baby clothes with the Tardis on it could be a great way to start.
This black bodysuit shows a big white moon and in the light of the moon you can see a tree and yes the Tardis flying by.
What better way then showing your little one about the moon and the things that could happen if you just believe.
This Doctor Who snapsuit is available in size 6 – 24 months and is made from preshrunk cotton that is nice and soft to keep your baby comfortable and look good.
You should be prepared to dress a baby and why not start with this Doctor Who Tardis And The Moon Baby Bodysuit.