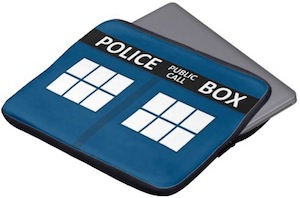 Do you just dump your laptop in a bag when you take it places?
That is the perfect way to damage things and to prevent that a nice laptop sleeve would be perfect.
Now you can have a Doctor Who themed sleeve for your laptop.
The sleeve looks like the top part of the Tardis complete with the windows and the banner "Police Public Call Box".
And this Tardis laptop sleeve comes in different sizes to fit a laptop between 10 and 15 inch perfectly.
The Doctor Who sleeve is made from lightweight and water resistant neoprene and closes neatly with a top zipper.
Now you laptop will not only be protected but also look a bit like the Tardis from the Doctor.
Lets protect your laptop as soon as possible, order your Doctor Who Tardis Laptop Sleeve.