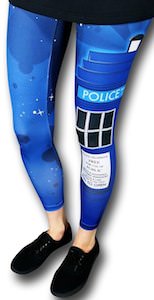 We seen leggings before at Shop Doctor Who but these ones look more fun to me.
These leggings show the galaxy and the Tardis. As you can see above the Tardis is not just a tiny picture, it's almost as high as a leg.
Leggings like these are great to wear just like that with a nice shirt on top.
Doctor Who leggings like these will be loved by almost any fan of the Doctor.
And these form fittings Doctor Who Tardis leggings come in sizes Small – XLarge (more sizing info by clicking the picture).
So if you don't have the perfect pair of Doctor Who leggings yet then at least check out these Doctor Who Tardis Galaxy Leggings.
You may also like: