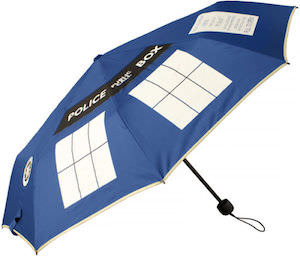 What do you do when it rains?
Most people will look for cover but if you are a Doctor Who fan then now you can use a Tardis style umbrella.
This Doctor Who umbrella folds in so that you can put it in a handbag and just looks stunning.
On the bottom it's just Tardis blue but the top also shows the Tardis windows and signs so that everyone from above can see how big of a Doctor Who fan you are.
No more wet clothes and hair and even on a sunny day this umbrella can keep the sun out of your face.
Doctor Who fans get ready for some bad weather so that you can use this Doctor Who Tardis Umbrella.