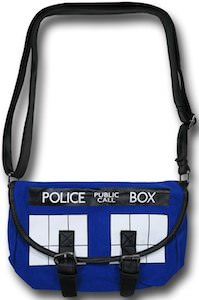 Shoulder bags are handy but it's hard to find a cute one.
But if you like Doctor Who then this Tardis bag maybe the one.
This handbag is Tardis blue with on the front the top part of the Tardis including the windows and the sign that says "Police Public Call Box".
On the inside you find two main compartment and a zipper compartment so plenty of space to store your stuff. And you never know this Doctor Who bag maybe bigger on the inside.
The bag has two black straps on the front and a nice long (resizable) shoulder strap.
If you want a new handbag then you have to take a better look at this Doctor Who Tardis Crossbody Handbag.