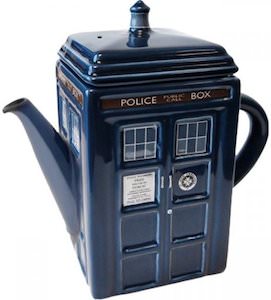 Tea could be what keeps the Tardis running and if you look at the picture above then this could be true.
A Tardis teapot that is what any Doctor Who fan should have.
This is ceramic teapot that is shaped like the Tardis as used by the 11th Doctor complete with the St Johns Ambulance logo on the door.
In this Doctor Who Tardis teapot you can hold up to 750ml of tea witch should be plenty for afternoon tea.
No more boring teapots in my house I only want a Tardis teapot how about you?
Come check out this amazing Doctor Who Tardis Ceramic Teapot.