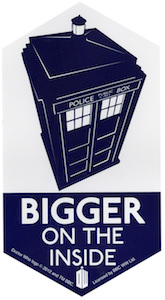 Looking for a fun sticker to decorate things in a Doctor Who style?
How about this die cut sticker that is now square or round just fun shaped and on that sticker you can find the Tardis on the top agains a white background and below that agains a blue background the words "Bigger on the inside" and there is also the Doctor Who logo.
Just imagine all the fun things you can do with this sticker. Laptop, books, planner or maybe you door at home can all use a sticker like this.
So get ready to decorate with this Doctor Who Tardis Bigger On The Inside Sticker.