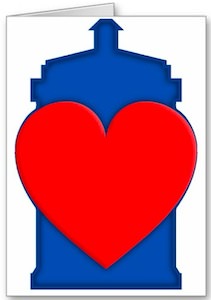 A Doctor Who fan deserves a Doctor Who themed Valentine's card for Valentine's Day.
This card is white and shows a blue Tardis with big red heart on it. On the inside of this Valentine's Card it says "You make me feel bigger on the inside" and two little hearts.
The Valentine's Day card is great for a Doctor loving fan that deserves a card from you. It has everything you need from a Valentine's card including hearts, message and of course the Tardis.
Surprise the love of you life with this Doctor Who Tardis Big Heart Valentine's Day Card.