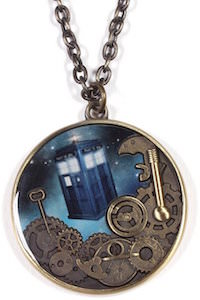 If you are looking for some special Doctor Who jewelry then you have to check out this necklace.
The necklace has a 18 inch chain with 3 inch extension and has a burnish gold color and that color comes back in the pendant that has the color on the edge on on the gears and leavers you see. Besides all the burnish gold you also can see a picture of the Tardis while it is hanging somewhere in the galaxy.
All that makes for a cool pendant necklace that seems to be based on the opening video of the 12th Doctors TV series.
If you like Doctor Who merchandise then check out this Doctor Who Tardis And Gears Pendant Necklace.