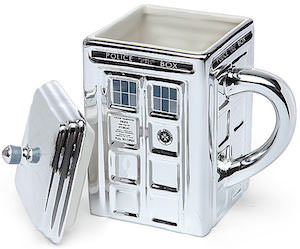 Are you getting sick of the Tardis being blue?
How about a chrome one?
This tea mug looks just like the Tardis and includes a lid with the top light just like the Tardis. But this mug is not blue like the Tardis it's chrome.
The  Doctor Who Tardis mug offers 17oz of space for you drinks and unfortunately it is not bigger on the inside.
A ceramic mug like this Tardis one is a great collectors item and the lid is a cool feature that makes it look amazing on your desk or on a display.
So let's go chrome with this Doctor Who Tardis Chrome Coffee Mug.