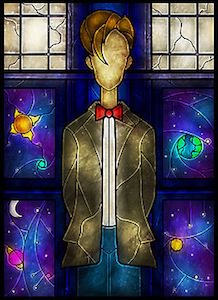 Looking for that special piece of art for on your wall based on Doctor Who?
This poster shows the 11th Doctor standing in front of what appears to be the Tardis but with a lot more graphics on it.
The whole piece looks like a stained glass window.
You can get this amazing piece of Doctor Who art as poster or card in a wide range of sizes and styles so that it will fit your needs and you  will still have a great piece of art that you won't see very often.
Come and check out all the options of this Doctor Who The 11th Doctor Poster.