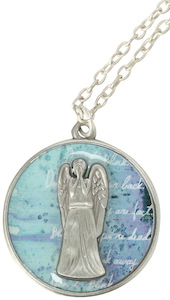 Weeping Angels are scary and for that reason you should be wearing this pendant necklace.
This Doctor Who necklace has a 16 inch chain with a 3 inch extender and on that you find a 1 1/4″ round pendant.
And this pendant shows a Weeping Angel holding it's eyes covered. And behind the angel there you find all kind  of warning messages like "Don't Blink" and "Blink and you're dead" just the messages we all know from the Doctor Who episodes that showed us the Weeping Angels.
The nice thing about the pendant is that the Weeping Angel is silver in color just like the side of the pendant but completely different from the background making the angel really pop.
Sure you need some Doctor Who jewelry and this necklace could be it so come get your Doctor Who Weeping Angel Pendant Necklace.