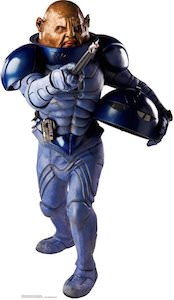 There is General Staal one of the Sontaran's we have seen in the Doctor Who stories.
And this Sontaran is a life-size cutout that can stand on it's own and makes a great decoration piece for a Doctor Who party.
This Sontaran has all the details you expect and of course there doesn't seem to be a neck.
Besides having this Sontaran standee as a free standing thing you can also keep him flat so that you could place or hang it against a wall.
And as you can see General Staal is ready for battle with his weapon ready. OK maybe he should be wearing his helmet instead of carrying it but besides that he is ready for battle.
Come check out this Doctor Who Sontaran Cardboard Poster Of General Staal.