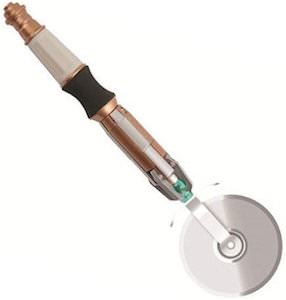 We already knew that a Sonic Screwdriver is a cool tool but did you know that now you can cut pizza with it?
Yes this Sonic Screwdriver based on the one the 11h Doctor uses can cut pizza because it is a pizza cutter.
Slowly we will replace everything in your home with Doctor Who related things and this pizza cutter is a great example of a must have item to replace the boring one you normally use.
Not only will it cut pizza like any other pizza cutter but this Doctor Who pizza cutter brings some extra time lord flavour to your pizza so that you can dream on about becoming the Doctors companion.
Let get ready for pizza and lets cut it with this Doctor Who Sonic Screwdriver Pizza Cutter.