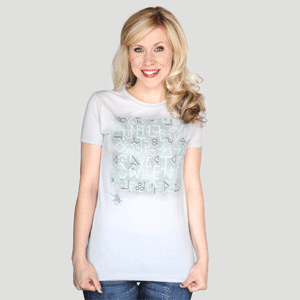 How about a Doctor Who t-shirt that is great in the light and the dark?
In the light this t-shirt says "Hello Sweetie" in Gallifreyan (the lost language of the time lords) and in the dark it says "Hello Sweetie" in english because this shirt is a glow in the dark t-shirt.
Of course we all know that Hello Sweetie is the way River Song talks to the Doctor so that makes this Doctor Who t-shirt  even more special.
This River Song t-shirt is made from 100% cotton and comes in size S – 3XL.
Why get a t-shirt that you can only see in the light? Glow in the dark is so much more fun.
Get ready to being seen in the dark by wearing this River Song Hello Sweetie Glow In The Dark T-Shirt.
You may also like: