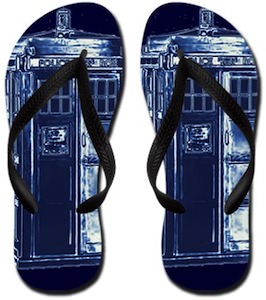 Doctor Who can't travel much without his Tardis and now you can travel with the Tardis to.
How you wonder?
Simple just wear these Tardis flip flops and they will bring you to your next destination.
Doctor Who wants them badly but why not beat the Doctor and get them first.
These flip flops show the famous blue police box on the footbed of these flip flops and then you can choose the strap and side color of these Doctor Who flip flops. You can choose for black, pink, blue or orange.
And if you whole family is fond of the Doctor then you are in luck because this footwear comes in a wide range of sizes for kids, men and women.
So time for some traveling with the Tardis with you new Doctor Who Tardis Flip Flops.
You may also like: