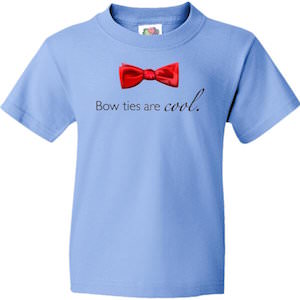 Yes kids like Doctor Who to and for those little Whovian's there now is this special t-shirt.
The shirt shows a red bow tie and below it the text "Bow ties are cool.".
And this unisex t-shirt comes in many fun colors so that boys and girls can enjoy it.
And this Doctor Who kids t-shirt is available in many youth sizes so that many kids can enjoy a t-shirt that reminds them of the 11th Doctor.
Surprise your child with this Doctor Who Kids Bow Ties Are Cool T-Shirt.