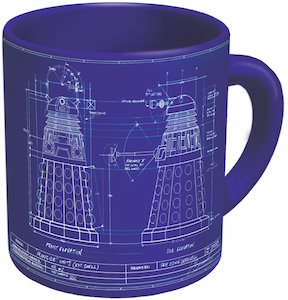 This blue mug may not be something you want to look at in the morning if you are a fan of keeping Doctor Who safe.
Because this mug has the blueprints on it of the Dalek, all the measurements and plans can be found on this mug and that can be a bit disturbing early in the morning.
But on the other hand this is a pretty cool mug to own as it so clearly is part of the Doctor Who story.
In the Dalek mug you can put up to 16oz of your favorite drinks and after use just put it in the dishwasher as it is dishwasher and microwave safe.
Time for a coffee or tea break and enjoying your new Doctor Who Dalek Blue Print Mug.