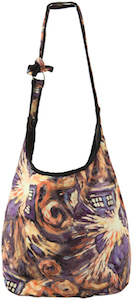 Are you one of those girls in need of a Doctor Who handbag?
How about this exploding Tardis hobo bag?
On the outside of the bag you can find the famous van Gogh painting of the Exploding Tardis and this design even goes on on the strap.
Now you can carry your everything that is important to you in this amazing Doctor Who handbag.
Why go for boring black, white, pink or blue when you have the opportunity to get a bag based on Doctor Who.
A girls night out now at least let you show of your amazing new Tardis bag.
Come and have a better look at this Doctor Who Exploding Tardis Handbag.