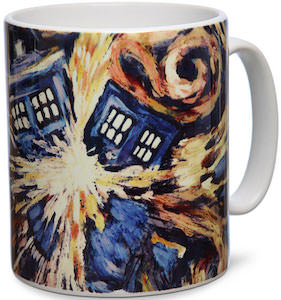 Looking for a coffee mug that looks really busy on the outside?
How about this mug that shows the exploding Tardis as painted by Vincent van Gogh in that famous Doctor Who episode.
The mug is white on the inside and has a white handle and that together with the nice Doctor Who themed print will make this the perfect mug for the morning first coffee or maybe to be your goto mug at work.
As you can never have enough mugs you can just buy a whole lot of them to make it the standard mug in your home so that everyone can enjoy it.
But first come take a closer look at this Doctor Who Exploding Tardis Coffee Mug.