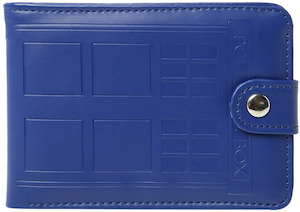 A Doctor Who fan of course carries around money and cards but how does it store those things?
A wallet is a great way of storing cards and money and now there is an amazing looking Tardis wallet.
This Doctor Who wallet is Tardis blue and has the Tardis doors embossed in the wallet.
The Tardis wallet closes with a button and on the inside you will find slots for credit cards and other cards and then there is room for all your paper money to.
This bi-fold wallet is fun because it reminds us of the Tardis and Doctor Who.
Lets store your stuff in this special Doctor Who Embossed Bi-Fold Tardis Wallet.