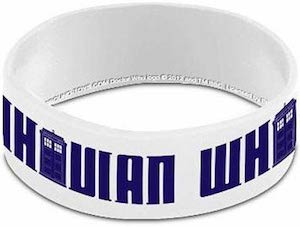 Fans of Doctor Who can now wear a rubber wristband to show that they are the real thing.
This wristband is white and on that in blue letters it says "Whovian" and the O of Whovian is a picture of the Tardis.
And as white goes with anything, you can mix and match it with the rest of you outfit.
A rubber bracelet like this is fun to wear and could be a great way to meet fellow Whovian's as now they now you are one of them.
This white Doctor Who bracelet is great for everyday wear and will be a hit at school and work so I would not wait any longer and just order a Doctor Who White Whovian Wristband.