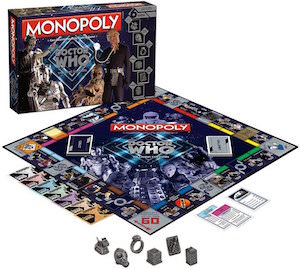 We all know Monopoly and now there is a new Doctor Who Monopoly and this time it's not about the Doctor but about the villains and this is the Doctor Who Villains Edition Monopoly.
The board does not offer the usual street, this time they are villains and yes the Dalek and Cyberman are there and even the Adipose is there even though he looks so cute.
The two card stacks are called Unit and Gallifrey to fit in perfectly with the theme.
And even the play pieces are special as they look like Tardis, Gas Mask, 12th Doctor's Ring, Pandorica, K-9 and River Song's Diary.
Time to replace that good old Monopoly game with this special Doctor Who Villains Edition Monopoly.