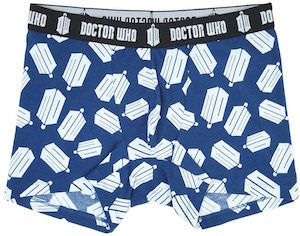 We can always use some new underwear and now there are these men's boxer briefs that are perfect for a Doctor Who fan.
The boxer shorts are Tardis blue and are covered in the famous Doctor Who logo made of the letters D and W and together the look like the Tardis.
Besides that there is also a black waistband that says "Doctor Who" on it together with the logo.
This Doctor Who underwear is made from 95% cotton and 5% spandex and comes in sizes Small – XL.
Now is a great time to order your clean underwear and why not get one of these Doctor Who Logo Boxer Shorts.